The founder members of the Champions League Twenty20 have announced in a Press Conference in Johannesburg that twelve teams would contest the inaugural Champions League.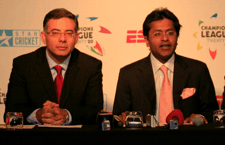 Lalit Modi and Manu Sawhney talk to the media at todays press conference in Johannesburg

The event will be held in India from October 8th to 23rd 2009

The twelve teams participating in the Champions League Twenty20 will comprise of three teams from India (2 finalists and the top league finishing team), who will compete against the top 2 domestic T20 teams from South Africa, England, Australia and the domestic T20 Champions from New Zealand, West Indies and Sri Lanka.

The teams will be divided into four groups of three each and will initially play each other on a league basis. The top two teams from each group will qualify for the second stage and four teams from the second stage would make it to the Semi Finals. The Champions League Twenty20 will witness a total of 23 matches.

The Royal Challengers Bangalore, Deccan Chargers and Delhi Daredevils will represent India in the inaugural edition of Champions League Twenty20 to be held in India later this year. Victoria and New South Wales will represent Australia, while the Cobras and Eagles will represent South Africa.

The Champions League Twenty20 will carry a prize pool of USD 6 million for 2009. The inaugural edition of the tournament is scheduled to start on October 8th, 2009 in India.

An initiative of three founding members– the Board of Control for Cricket in India, Cricket Australia and Cricket South Africa, the Champions League Twenty20 is a platform where the best-of-the-best in domestic club cricket in the world will get the opportunity to pit their cricketing skills against each other.

The Champions League Twenty20 carries a prize money of USD 6 million. ESPN STAR Sports are the commercial rights holders for Champions League Twenty20 for a period of 10 years.

Speaking on the occasion, Lalit Modi, Chairman, Champions League Twenty 20, said, "In the CLT20, I believe we have a concept that will inspire and motivate the future generations of club, state and county cricketers, while accelerating the development of the game globally."

"Our South African experience has taught us that the club concept is slowly but surely being accepted by cricket fans across the world and Champions League Twenty20 will provide an opportunity for the best-of-the-best to be crowned the Champion."